Equipment
Travers Tree Service maintains a state-of-the-art fleet of equipment capable of responding to all of the demands of the tree care industry. This investment in equipment helps us in many ways. Excellent equipment makes quick work of the hardest task. It helps our crews be more productive, which increase productivity keeping our overall prices reasonable for our customers.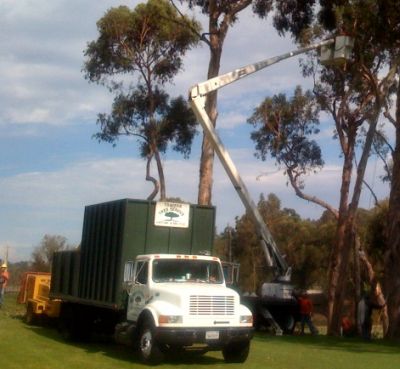 We maintain a fleet of "aerial" bucket trucks.

These guarantee safety and a through job, especially on larger trees.
We maintain a fleet of grinders, chippers, and mulching machines.

We use innovative machines to reduce, compost, and divert our green waste from the landfills.

Our

stump grinders and stump removal equipment make quick work of any stump

.

We use the most advanced tree injection systems to systemically inject trees for disease and pest control.

We use root feeder-injectors to access the root zones.

We also treat trees with external foliar spray equipment, which, coupled with trained personnel who have California State Pest Control licenses, provide a broad spectrum of disease and pest control.
---
Contact us for more information at tts@traverstree.com
Office: (310) 530-3920
Fax: (310) 534-3020